a treadway bridge and simultaneously a counterattack was launched by the 341st Assault Gun Brigade to retake Boslar. Twenty assault guns accompanied by two infantry companies descended on the town. Their attack was foiled by vigilant forward observers who dispersed the infantry by heavy artillery fire. Lacking support the guns could do nothing but retire after delivering several vindicate barrages at the town. They reappeared the next morning to harass the 405th Infantry, but never again did they achieve anything more than a nuisance role.
The loessial soils of the rolling Cologne plain were drying after early Spring thaws. Clear skies spelled disaster to enemy rear areas now exposed to our hard-hitting air support. Buds were bursting on the chestnut trees and mayflowers timidly pushed forth their shoots into a war-wracked world. Laying on a fresh green slope a fellow might dream for a few moments, oblivious to the whine of small arms fire. But the clamor of battle cannot long be ignored. Next day Gcvenich, Glimbach, Tetz, Boslar, Hompesch and Koffern all fell before the first furious assault. Hurried Germans were forced to commit another division in the defense of Erkelenz. 338th Infantry Division hurried to bolster the whipped 59th. Our swing northward to enfilade painstakingly prepared defenses caught the enemy completely by surprise. As was expected he proved incapable of mustering any sizeable reserve. Casual units and rear area units appeared. A few timid Volkssturm and several police organizations together with hastily impressed civilian s emerged to defend their cities, only to be swept over and engulfed by the rampaging Ozarks. The enemy fought without hope of relief, spurred only by the realization that the fight for the Ruhr was the battle for Germany.
February 25. 407th Infantry advanced on Lovenich. Resolutely pushing through the town with their right flank still unprotected, and always under heavy artillery fire, veteran Ozarks of the 1st and 2d Battalions were consolidating their positions well before noon. 407th's 3rd Battalion had already captured Ralshoven. 405th Infantry meanwhile screened the division's right flank which was becoming more and more vulnerable. 406th Infantry pressed east then north from Hottorf, their 2d Battalion taking Kleine-boslar and Katzem. 3rd Battalion then moved into Eichoff against intense small arms and 88mm fire.
These are simple objective statements. They state the overall facts. Yet how woefully justifyspacer

inadequate is their description of the battle, the terrors of shell fire, the awful nakedness of those fields under the snouts of 88s, the confusion, and tragedies of mistaken identity. Sgt Howard Brodie went with the 3d Battalion of 406th Infantry when they jumped off on that long trek up the exposed right flank from Hottorf through Gut Klassenshof, Haus Hochfeld, and Burgfeld to Eichoff. His sketches appeared in the Southwest Pacific edition of Yank together with the following report of what he saw while with Company K.
He told about moving up from the assembly area and passing "a still doughboy on the side of the road with no hands, his misshapen, ooze-filled mittens a few feet from him." He told about joining a forward platoon the next day and described some of the things he saw: "A dough bailing his hole out with his canteen cup." . . . . . "Lt. Joe Lane, the platoon leader, playing football with a cabbage." . . . . A dead G1 in his hole slumped in his last living position, the hole too deep and too narrow to allow his body to settle. A partially smoked cigarette lay inches from his mouth and a dollar-sized circle of blood on the earth offered the only evidence of violent death."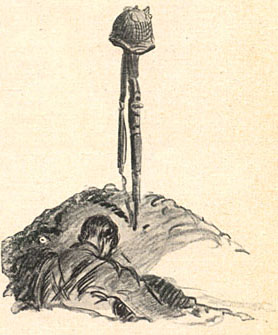 | | |
| --- | --- |
| | "I saw a GI in his hole, slumped in his last living position . . ." -- Brodie justifyspacer |